Buy Ticket Online Of Bangladesh Vs England Series From www.shohoz.com. Buy Ticket Online 1st ODI Match Bangladesh vs England. Shohoz.com provide Bangladesh vs England ODI Match Ticket By Online. How To Get Buy Online Bangladesh Vs England Match Tickets.
Bangladesh vs England Match Ticket Buy from Shohoz.com. Bangladesh is all set to face England in the three match ODI series that is supposed to be started from October 7, 2016.
Buy Ticket Online Bangladesh Vs England 1st, 2nd & 3rd ODI Match Ticket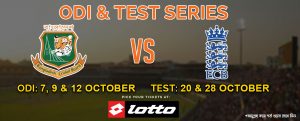 Bangladesh vs England 1st ODI match will be a great moment for the cricket fan across the country and they are waiting anxiously to buy the match ticket as early as possible. Likewise the previous series between Bangladesh vs Afghanistan, match ticket of upcoming ODI against England will also be available in shohoz.com. Today we will brief you about the pros and cons of buying tickets from shohoz, which is actually a leading online ticket-selling website of Bangladesh.
How to buy Bangladesh vs England match Ticket from shohoz.com
To buy the match ticket of Bangladesh vs England ODI series, first you need to visit the official website of shohoz which has been provided below
https://www.shohoz.com/
Buy Ticket Online Bangladesh Vs England 1st ODI Match. There is a option named 'Buy Tickets' in the website and you need to click to buy the ticket of Bangladesh vs England ODI match. A few terms and conditions have been given there which should be followed accordingly.
Buy Ticket Online and Purchase Process
You need to provide all the information including National ID, Name, Mobile Number, Email, Number of Tickets and Ticket Category
Pick-up store location is needed to be selected then and the user need to choose the dates and time slots
Payment should be done via credit card/ debit card or bKash. No cash payment is allowed in that case
Verification should be done in terms of Bkash payment within 1 hour of placing the order. To verify please visit the link below
https://www.shohoz.com/events/booking/bkash-verify
A congratulation message will be displayed if the payment is successful and you will get an E-token which should be used to pick up the ticket
Real Life Scenario in Shohoz.com
Buy Ticket Online Bangladesh Vs England 2nd ODI Match. There is something left to say about buying ticket on Shohoz. First of all only 30-35% ticket will be sold by this website which means 8 to 9 thousands ticket will be sold here out of 25 thousands tickets. There is a notification in the website which reads –The tickets are available in phases. Just small amount of ticket will be available on 4th October night and rest will be available on the following day. So if you are looking forward to buy ticket from here, don't think that it is guaranteed that you will have one.
For more updates, stay connected with us.