Brazil U23 vs Germany U23 Match Result in Olympic Final 2016. Brazil has turned their Olympic luck on and secures their place in the final where Germany have joined to meet them. Brazil U23 vs Germany U23 Match in Olympic finals will be in next Saturday (August 21) and it can go without saying that it would be one of the most exciting football matches of this year.
Rio Olympic 2016 has been a great example of brilliant football throughout the competition and hopefully the final will also thrill you. For more updates scroll and go through the writing.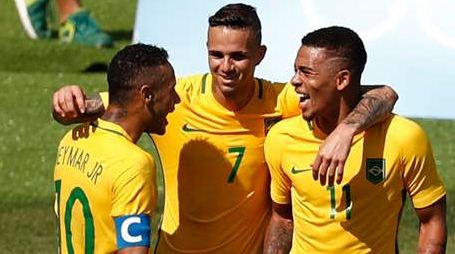 Brazil U23 vs Germany U23 Olympic Final Schedule and Live Telecast
Brazil vs Germany Rio Olympic final will take place on August 21. According to Bangladesh time the match will commence on 2.30 am.  The match venue is world famous Maracan stadium located in Rio de Janeiro of Brazil. Brazil vs Germany Rio Olympic final will be telecast live on Star Sports. You can also search for live streaming links or can use live streaming apps to watch the Germany U23 vs Brazil U23 Olympic final 2016.
Brazilian super star Neymar was at his best in the quarter final match against in which he scored from a free kick against Colombia. Neymar's good form continues even in the semi final in which he set an Olympic record by scoring the first goal against Honduras in just 15 seconds of starting time. The ball netting started since then and stopped at massive 6-0 difference. All the promising players including Neymar, Gabriel Jesus, Luan and Marquinhos scored in the semi final which is off course a good sign for the team. The Selecao started the Olympic campaign out of form as they could not able to score a single goal in first two matches. But the men in yellow bounced back and beat Denmark 4-0 in the last group match. I quarter final they beat Colombia by 2-0.
Mighty Germany secure place in Olympic Final
Germany, one of the strongest teams in World football has also finalized their place in Rio Olympic final. Germany U23 team beat Super Eagle Nigeria by 2-0 in the semi finals.  Lukas Klosertmann started the score sheet against Nigeria. Later on, Nuls Peterson scored the second one to pave their way to final of the prestigious Olympic. Germany will face their arch rival Brazil in the race of securing a gold medal which will be proud moment in country's football history.
Brazil vs Germany Arch Rivalry Once Again
Germany had become the greatest rival of Brazil in recent days as the Selecao were beaten by 7-1 in World Cup 2014. That put a huge scar on Brazil as a football nation and the team will off course play the final keeping that in mind. All in all, Germany vs Brazil Olympic final match is going to be one of the most thrilling matches. So don't forget to watch that. For more updates stay with us and enjoy the thrill of football.