Brazil Next Match Against Bolivia. Brazil Face Next Match Against Bolivia in World Cup Qualifying 2018. Brazil have beaten Colombia in World Cup Qualifier match and Brazilian star Neymar, once again, was the key player who clinches the victory for his team. Neymar scored a winner which paved the way for team Brazil to overcome the Colombian barrier and also to climb up to the second place of the points table.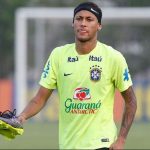 Brazil win the match by 2-1 against Colombia and all the goals were scored by the Brazilian footballers as one of the three was an own goal.  Brazil had a flying started as Miranda, who was the captain in the previous match, scored from a brilliant header to open the tally for the Selecao at the 2nd minute. Colombia, however came back in the match in the 36th minute as Marquinhos conceded an own goal at the 36th minute. It was Neymar, with his brilliant finishing once again, saved the team from in the 74th minute. The match ended as 2-1 draw for team Brazil and the Selecao continued the good form.
Brazil in World Cup Qualifiers Point Table
By this win, Brazil have gained 15 points in total so far in the point table of 2018 World Cup Qualifier of South America region. Argentina also gained 15 points but Brazil is still on top of Argentina, which is basically 2nd place, as they have better goal scoring tally. Uruguay is currently in top of the points table.
Brazil Next Match Fixture in World Cup Qualifying
Brazil vs Bolivia Live in World Cup Qualifying 2018. After a busy week of international football, all the teams including Brazil will have round about one month break. Brazil will face Bolivia on October 6 this year. The match has been scheduled to be held at Estadio do Maracana, one of the all-time best football stadium around the world. This will be the match number nine for team Brazil in Russia World Cup Qualifiers.
After that team Brazil will face Venezuela on October 11. This will also be a 2018 World Cup Qualifier match and will be vital enough to ensure the ticket of Russia World Cup 2018.  Brazil vs Venezuela match will be the Selecao's 10th match in the qualifiers of World Cup Football 2018.
After winning the Olympic medal, team Brazil is in good form with the direct contribution of Neymar. Hopefully, the team will continue their form in next matches. For more updates of Brazil football matches, stay connected with us.