BPL Ticket Buy Online From www.shohoz.com. BPL T20 Ticket Purchase by Online. Bangladesh Premier League Match Ticket Available Here. Buy BPL 2017 match ticket from www shohoz com. The fifth edition of Bangladesh Premier League, country's most hyped T20 tournament, is going to be started from November 2, 2017. As there are not so many days left to kick start another awesome edition of BPL, it is time you need to know all the necessary details including BPL ticket, ticket prices and ways to buy BPL 2017 ticket.
BPL Ticket Buy Online | www shohoz com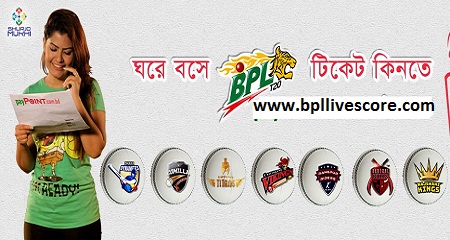 Keeping that in mind today we will let you know all the details of BPL T20 Ticket Buy Online so that you can take preparation to watch the matches and act according to that.
BPL 2017 Match Ticket Prices
The match ticket will be available for the opening ceremony, which has been scheduled to take place on October 31, 2017 and also for the matches starting from November 2. BPL governing council has recently placed a meeting regarding fixing the prices of BPL matches. In earlier edition, the price of BPL 2017 match ticket was at least 200 taka for the east gallery. As last BPL witnessed a fewer crowd than expected, the authority concerned has decided to lessen the ticket price a bit.
BPL Governing Council member Sheikh Sohel was asked by the reports about the price of BPL 2017 tickets. He said, "BPL 5 price of the tickets will be lower a bit this time. We are planning to fix the minimum rate of ticket as taka 100. There will be taka 200 and taka 300 tickets for the gallery. " However no ticket will be available in taka 50 or so, he confirmed.
BPL Ticket Purchase From www.shohoz.com

BPL 2017 ticket purchase will be available on line. To buy BPL Ticket online, you need to pay from credit card or by cash after getting the delivery. Various online service like shohoz.com will most probably provide the BPL 2017 online ticket purchase service. Beside that the ticket can be bought from several affiliated banks as well.
BPL Ticket Buy Online for Opening Ceremony 2017
There was some problems regarding the opening ceremony last year. Keeping that in mind the authority concerned has planned to implement tight security ahead of the opening ceremony. As a part of that the gate of the venue will be closed at 5 pm sharp on October 31 and no one will be allowed to enter after that.
If you are interested to know all the stuffs of BPL 2017 and BPL Ticket Buy Online, please stay with us and read our articles regularly