After World T20 2016,  two Bangladesh cricketer Shakib Al Hasan and Mustafizur Rahman are going to start playing  in  Indian Premier League (IPL) 2016. Shakib will play for Kolkata Knight Riders while  Mustafiz  will fight in favour of Sunrisers Hyderabad.
Shakib and Mustafiz are Participate in Indian Premier League 2016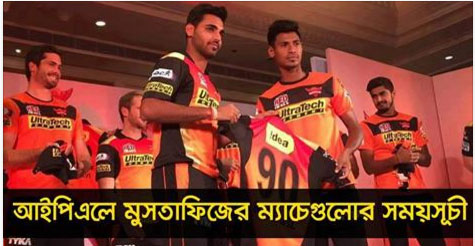 Before starting for IPL Shakib and his wife Umme Ahmed have signed the deal of Brand Ambassador for Mobile phone company Banglalink for  next 2 years. On the signing ceremony, Shakib said," I have always one and only  target. That is Whenever and wherever  I play, I play at my best to do good for the team. All the time I am not  successful, but I try to do my best  to win".
Shakib has been starting playing in IPL since 2011 but Mustafiz is going for the first time. He is feeling it very thrilling . He added, " as it is a big tournament, I feel really good. " Even though it is the  first time for Mustafiz, Shakib does not feel that Mustafiz, this left handed pace  bowler, needs any suggestions. Shakib comments that Mustafizur is one of the best bowler for limited over tournament in the world. The only thing needs to keep the fitness along with superior practices. On the other hand, Mustafiz feels that it would be better if they both play together on the same team. He felt a bit nervous but feel highly good also.  This is the first time Mustafiz is going  alone to play in a big tournament. He said so in the Mirpur academy    on last Tuesday.
In last June, when the Indian batsmen were under tremendous  stress from Mustafiz, the former batsman of India team and present the mentor of Sunrisers Hyderabad Mr. VVS Laxmon started to keep eyes on this rising and promising bowler. And on February 6,2016, they over bided Challengers Bangalore and  able to  get Mustafizur in their team for 1 crore 40 lacs rupees.
But the most interesting is that, these two Bangladesh cricketers will fight against each other on 16 April in Hyderabad and return match on 22nd May at Iden Garden in Kolkata.
As a sixth player, Mustafiz is going to play in IPL. Before that,  besides Shakib and Mustafiz, Mashrafe Mortaza was played for Kolkata Nightriders and Abdur Razzak was in Royal Challengers Bangalore, in Mumbai Indians ,Md. Ashraful and Tamim played for Pune warriors.
He is injured two times this year. The team physiologist  confirmed that this pacer's  fitness and told about him to the  Sunrisers Hyderabad  physiologist  Thio Kapa.
Everybody are expecting a high performance from Mustafiz. He is also trying to give more than expectation and  seeks to learn something more from high valued IPL.