Real Madrid has reached the final round by attaining the  expected victory against Manchester city .The midfielder Fernando did a goal to their own goal post and with the joy of victory, the disciples of Zinedine  Zidane  left the field.
Man City arrive home after Real Madrid Champions League defeat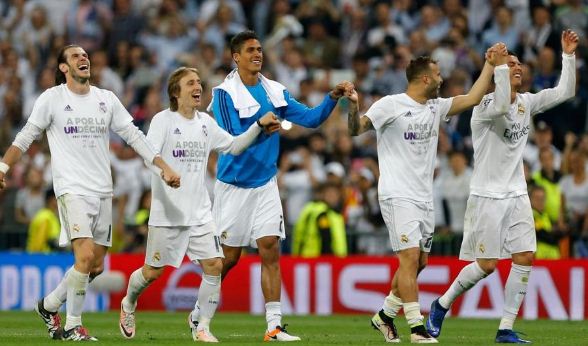 The football fans are going to enjoy all Spanish final after the 2013-14 session. On next 28th at the San Siro Atletico  in Milan  to fight for  the 11th cup the Madrid and its team of  Ronaldo-Bale will be in the field. Two years back Real won the 10th cup  4-1 goal against this city team.
At the beginning of the match, a bit hit touched city.  While taking a shot due to injury  in muscle, the captain, and defender Vincent Kompany had to leave the field.
at the 20th minute, because of Gareth Bale performance, Real  went ahead. He got the ball which was forwarded by Dani Carvajal in D box  at right side. For a corner shot, the ball touched the leg of Fernando and hit the goal post. Later this goal was shown as a suicidal goal.
At the 44th minute, Brazil's midfielder Fernando Francisco Reges,s shot hit the goal post and in the break,  Real was ahead .
At 54th minute, Luka Modrić missed the opportunity to raise the difference. The high ball from Bale was excellently  controlled by Croatian midfielder Luka  but unable to shot properly . The goalkeeper Hart protected it by the corner.
Next  Ronaldo got the opportunity. The cross of Carvajal to him was caught by Joe hart . At 58th minute, the pass by Isco and the strong shot of Ronaldo was also protected  by this English goalkeeper.
At 65th minute at Toni Kroos 's corner and head ball of Bale made  a goal but it hit the crossbar  and the guest team was saved from this goal.
At the 69th minute, midfielder Jesús Navas was withdrawn  by Pellegrini and the replace was Nigerian forward Kelechi Iheanacho. Sergio Agüero, the Argentine striker was pale in his performance from the beginning and did not perform noticeably  at the end too.
The Argentine Agüero could be the hero due to his strong shot but the ball went over the crossbar and the dream of City  to play in final was vanished instantly.