Real Madrid, one of the most famous clubs across the world, have reached to the final of UEFA Champions League once again after beating Manchester City in the semi final. Real Madrid beat Manchester City 1-0 in Santiagu Bernabu, home ground of the whites and rushed towards the final with same aggregated score. Earlier the first leg between these two teams was ended as 0-0 draw.
Real Madrid vs Manchester City Champions League Semi Final Recap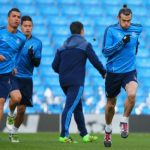 Manchester City defender unfortunately considered an own goal to pave the way for the opponent to get hold of the match. By this, Real Madrid confirmed the ticket of Champions League final after 2013-14 season. Manchester City had their chances and even if it was 1-1 draw then City would rush to the final to the due to the away goal. But the English giant remained quiet in the match as they had taken just 5 shot on Real's goal where the opponent were more frequent with 15 shots. Inclusion of Madrid's best player Cristiano Ronaldo surely enhanced the conference level of the team.  But it was Gareth Bale who was the main actor behind the scene. The goal was also produced as Bale made an brilliant effort to cross it in City's box. But on the way it had a deflection of Fernando and rushed to the net. In followings minutes Real Madrid got a few chances but could not able get another goal. Luka Modric and Ronaldo got chances but could not able to deliver with perfection. Bale was unlucky as his header hit the cross bar at the 65th minutes. On the other hand, City's star forward Sergio Aguero had not been seen on song throughout the match. Besides, Man City's captain Vincent Company was ruled out of the team due to sudden injury on the field.
Real Madrid vs Atletico Madrid Champions League Final 2016
Once again, it will be all-Spanish final in Champions league as Athletico Madrid will face Real Madrid in the final on 28 May, 2016. The Madrid derby will take place at San Siro which is the home ground of AC Milan, another well-known football club from Italy. These two teams faced each other in final of Champions League in 2013-14 season. Real Madrid sealed their 10th Champions League or European Championship trophy beating Atletico Madrid by 4-1. The all-Spanish final will also be another thrilling battle on the field as both teams have built up great rivalry in recent days.