Mahmudullah's Match Schedule of Caribbean Premier League (CPL) T20 2017. The Jamaica Tallawahs have called Mahmudullah Riyad into their squad for the Caribbean Premier League season 2017. Bangladesh cricket team is currently having busy time preparing them ahead of the test series against Australia. But Mahmudullah Riyad, one of the most senior campaigners of Bangladesh team, has different place as he is taking part in ongoing CPL 2017. Riyad have not been included in the test side and that gave him a chance to take part in the Caribbean Premier League in which he will playing for Jamaica Tallawahs.
Mahmudullah's Match Schedule of Caribbean Premier League T20 2017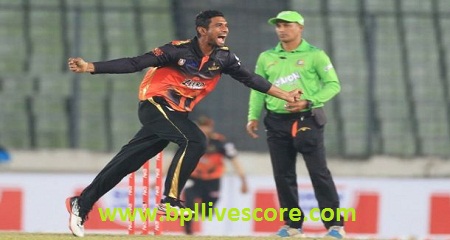 Even though Mahmudullah had not been a part of the franchise from the beginning of the tournament, he still will have the chance to play 4 upcoming matches if the authority wants. As Mahmudullah has fan followers in Bangladesh, a lot of people are now looking for the match schedule of Jamaica Tallawahs in which Mahmudullah will be taking part. Keping that in mind we are going to give all the information that you need here. Check cpl t20 live score from www.bdcricscore.com.
Jamaica Tallawahs Upcoming Match Fixture in CPL 2017
The list of upcoming matches of Jamaica Tallawahs have been added here with match timing.
August 26, 2017:Jamaica Tallawahs will face Saint Lucia on August 26. The match will be started at 7am Bangladesh time and the match will be held at the Sabina Park of Jamaica.
August 27: On the very next day the Tallawahs will be facing Trinbago Night Riders in the Sabina Park. The match will be started 7am Bangladesh time.
August 31: Jamaica Tallawahs vs Saint Kits match will be started from 5am on August 31 at the same venue.
September 2, 2017: Jamaica will face Guyana Amazon on September 2, 2017. The match will commence at 7am BDT.
Jamaica Tallawahs Standings in CPL 2017
The defending champion Jamaica Tallawahs have gained 8 points in 6 matches in CPL 2017 so far and they are well in the run to keep the trophy home. They are now at the third place of CPL 2017 Points Table.
Mahmudullah is the fourth player from Bangladesh who will be participating in CPL and with no doubt it is a great opportunity for him to prove his talent. Get all the updates of CPL 2017 and Mahmudullah's franchise Jamaica Tallawahs match in CPL here. Stay connected, stay informed.