England will play three ODI matches and two Test during Bangladesh Tour. England will play three practice matches for Bangladesh tour. One before one-day series and another two before test series. They will finally come to Bangladesh on 30th September to play a full series. BCB informed the tour schedule through a press release on Tuesday.
England to play three warm-up matches during Bangladesh tour 2016
Three matches one-day series will start on 7th October, 2016 at Sher-E-Bangla Stadium in Mirpur. This one-day will take place before the test series. As one-day series will start on 7th October, so the guest team has one week time to accommodate A practice match for one-day is also there in Fotullah.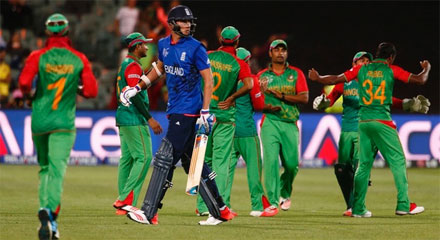 The last match of one-day series will be at Johur Ahmed Chowdhury Stadium in Chittagong. On 20th October, the first match will be also there. The next test will be started on 28th October in Mirpur. Before test series, the English will play two warm-up matches  in two days. Both of these matches will be M. A. Aziz Stadium.
Normally the teams who visit Bangladesh have the opportunity to play 1 one- day match and one three-days practice match. England is going to play 2 two- days matches instead of 1 three days match.
Bangladesh team also gets this opportunity to accommodate whenever they visit England. In 2005 and 2010,when Bangladesh Team visited England, they got the chance to play 3 three-days match before two matches test series.   And before one-day series, they played two warm-up matches.
England visited Bangladesh in 2010 last time.  Andrew Strauser was  in rest then and it was the time to inaugurate present Captain Alister Kuk as captain for the first time.
Bangladesh and England Match Schedule
| | | |
| --- | --- | --- |
| Date | Match | Venue |
| 04th October 2016 | 1 Day Practice Match | Fatullah |
| 07th October 2016 | 1st One Day | Mirpur |
| 09th October 2016 | 2nd One Day | Mirpur |
| 12th October 2016 | 3rd One Day | Chittagong |
| 14th  October to 17th October 2016 | 2 Days Practice Match | Chittagong |
| 20th October to 24thOctober2016 | 1st Test | Chittagong |
| 28 October to  1st November 2016 | 2nd Test | Mirpur |