The team of West Indies had got a target of 192 runs and they won the match when they had still 2 balls rest to play in the semi-final with India and in the final the target was 156 . So, they did not feel down with this target at all as they have players like Andre Russell and Lendl Simmons. The history tells anything else. It is the highest run in T20 final match . And West Indies rewrites the history. The magnificent innings of Marlon Samuels  and Carlos Brathwaite's 4 sixes in last over's first 4 four balls were  breathtaking.
West Indies beats England by four wickets in World Twenty20 final 2016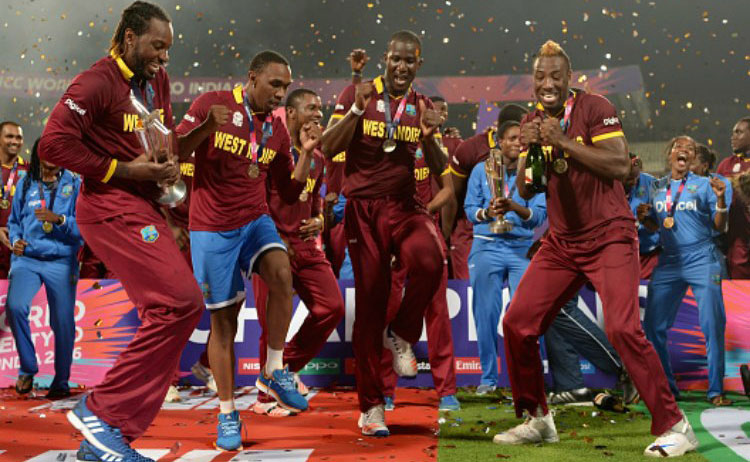 At the same time, this is the first time any team won T20 final twice and West Indies women team also won women T20 world cup on the same day which doubling  their joy.
West Indies was under a stress when they lost their 3 wickets in first 11 runs. Within these 3 wickets one  was, Chris  Gayle, another two were   Johnson and Lendl Simmons. But the next pair. Dwayne Bravo and Marlon Samuels tackled the calamity a bit by 75 runs companionship. As to make sure to keep the  wickets,  this pair had to play  69 balls for only 75 runs and that augmented the  asking run rate to high. Next, Bravo went back to the pavilion with only 25 runs in 27 balls and this stress also pushed to get out from crease  Andre Russell and  captain Darren Sammy. The last resort was Samuels perfect pair with Carlos Brathwaite.
In the last over, West Indies needed 19 runs. The dream of England team to win  the Cup was spectacularly destroyed in the last over by Brathwaite  by his 4 sixes in first 4 balls of Ben stokes. Samuels was unbeaten on 85 runs  in 66 balls and Carlos Brathwaite also unbeaten by 34 runs in 10 balls.
England's team was mostly bothered by leg-spinner Samuel Badree. Within first 3 wickets, Roy and Morgan were out due to him. Lastly, he captured 2 wickets only for 16 runs.  In the 2nd ball, Jason was out and Root came to the crease. In the 2nd over, Alex Hales and in the 5th over Morgan  were out . But, Root from England team turned around and put a strain on Indies' bowlers. He went to the pavilion with 54 runs in 36 balls. Root was accompanied by Jos Buttler  who jointly made 61 runs in 6.4 over.
But when Jos Buttler  was caught out by Brathwaite's ball and Bravo's catch. After that,  no one gave perfect company to Root. And it made the situation more provoking to make him impatient when stokes and Moeen Ali were out  one after another. In a short fine leg, Root was out by Sulieman's catch which was a Brathwaite's bowling. At the last stage of England's innings, due to David Willey's  21 run in 14 ball, the runs line of England went up  and  crossed 150.  Willey was also out at Johnson's catch of Brathwaite's ball. So, the most success comes from the bowling of  Brathwaite-do doubt. West Indies won by 4 wickets.