Dhaka Abahani Cricket Club Player List & Match Schedule DPL 2016. Abahoni  won the championship  of DPL five years back. The success year for them was 2010-11. After that, four tournaments has run successfully.
Dhaka Abahani Player List & Match Fixture DPL 2016
In this current season, they would like to win and for that, they have mapped an exotic work plan. This time, in Abahoni team there are lots of players from a national team like Shakib Al Hasan, Tamim Iqbal, Liton Das, Mossadek Hossain, Taskin Ahmed and Jubayer Hossain.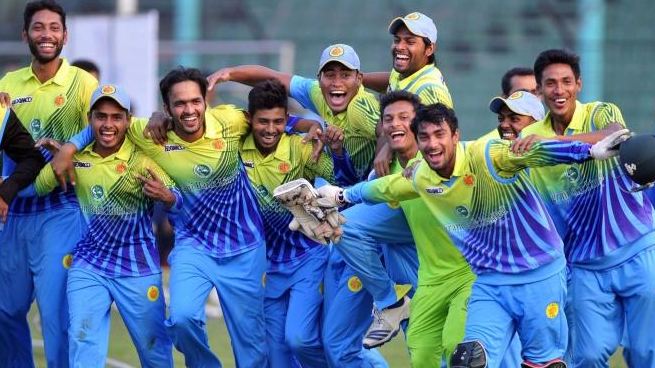 Good to know that  Abahoni has an efficient coach like Khaled Mahmud who has built  a strong and  competent  team  though there is some controversy when Sujon has become coach  of Abahoni. Dhaka Abahani Player List & Match Fixture DPL 2016. DPL all player list.
But, as a DPL coach, Sujon has a glorious history. Lastly, he was coach of Prime Bank team. Last time when Abahoni won the Cup, he was in charge of the team. So, naturally Abahoni is a strong team this time as usual.
But according to Sujon, their main target is to show their talents in the field and meet the audiences' expectation. He also added ," documents shows that we are the best, but ,cricket is such a thing which has to play on the field and you can never be sure about you . You have to play your best and we plan to do that. But surely we will play for the Cup, for the final victory."
Officially, Abahioni has started their practice on last Friday in Mirpur Academy ground. But some vital players were absent then. The coach informs that it was their  first day of practice but everybody was not present. Tamim has gone to Saudi Arabia for Umrah, Masssadek's mom is sick and he would like to join in practice on 17th of this month. But, Tamim and his friend Shakib Al-Hasan are two best players of the team.
But, Shakib is now playing in IPL for Kolkata knight Riders and it is not confirmed when he will back. The coach said, " we really do not know the exact date when we get back Shakib . But we are strong enough without Shakib Also." In the team, there are  young promising  players like Tamim, Mossadek, Liton, Santo. They are doing very well. The former captain of Bangladesh cricket Team , Mr. Sujon also said that their pacers are experienced. There are Taskin, Tapos, and Razu. There  is spinner Sojib.  Jubayer and Amitav have long term experience to play in DPL.
Name of the players of Abahoni for DPL- Liton Kumar Das, Tamim Iqbal, Shakib Al Hasan, Nazmul Hossain Shanto, Taskin Ahmed, Abul Hasan Razu, Avishek Mitra,Tapos Boossho, Amitav Kumar Noyon, Abu Bakor Siddique, Jubayer Hossain Likhon, Saklayen Sojib and many  more.