The last couples of days, Mominul Haque is doing hard practices. Overlooking the tremendous hot, he is  doing  different practices one after another. After some few days, DPL will start. And Mominul  is preparing himself for that. He is aspired to prove himself. But what he  aspires to proof?
More Challenges for Mominul In Dhaka Premier League 2016
In his 17 matches, the average is 56 and altogether 1456 runs. He is very close to break the record of  AB D Villiers who has the highest record  of  doing half century and  more than half century  continuously  in 12 tests. So, what is going to be proved by Mominul Haque?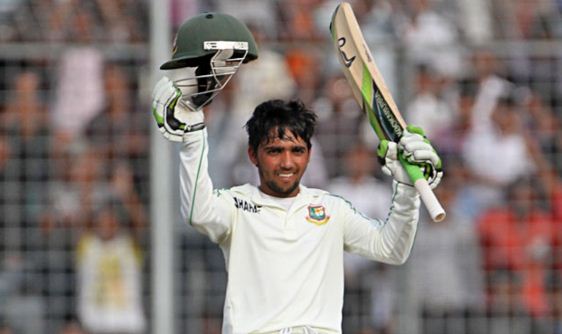 This is the challenge to flourish himself in 50 over cricket. In his 26 one-day test, the average is 23.60 and altogether 543 runs. But it is really very  awkward for a batsman like him. The test is the extreme place of verifying the cricketers. He has done very well there but why Mominul  has too low performance in limited over? He is really bored to answer this question. But he is failed to do the same performance as like tests in a one-day match. So, he loses the opportunity. Why is this failure? Do you have the right answer? But he never does the analysis. But the reality is that if Mominul Haque does a low performance in any form , the team will not think about him.
But, it is very logical to ask the question that is Mominul get enough chances to overcome his shortfalls? in 2015 world cup, after two matches, the door was closed for him. But, Mominul never thinks about that how much chances he gets.
He would like to avoid these negative thoughts. He does not like to look back to the past. He feels that in Bangladesh team, there is high competition now. He recognizes  that he has to do better in one-day match. If he will do well in upcoming DPL, the avenue of playing in the one-day match may be open for him again.
This time, Mominul is included in Victoria Sporting Club through players draft. There is no high performer in this team but this team was  the champion of 2011-12. Mominul is not expecting high to win with Victoria but his main target is to give high performance in the tournament. He intends  to plan to be in 3rd or 4th position. It is really tough to be a champion with this team.
Mominul is out of the national team from the last august after the match between Bangladesh and South Africa. He is playing in the limited area at the national level only. But, for that, he is not depressed. He , the left-handed 24 years  batsman, is looking forward to showing his true colors of high performance in cricket.