Bangladesh vs Sydney Sixers Live Score Practice Match Result on 14 December, 2016. Bangladesh Cricket Board BCB XI team have started their New Zealand mission in high defeating Sydney Sixers by seven wickets in a practice match today at Australia. Bangladesh Cricket team had flown to Australia to attend a conditioning camp before the New Zealand series. In Australia, the tigers are supposed to play two practice matches. Among the two matches, one will be held today. The opponent team is Sydney Sixers, one of the leading franchises of Australian T20 championship Big Bash League. Team Bangladesh will play as BCB XI in this match. The match will be a great opportunity for them to assess the condition as it will be more or less similar to New Zealand. More details of Bangladesh vs Sydney Sixers have been updated in the later part of the news.
Bangladesh vs Sydney Sixers Live Scorecard Today Practice Match Result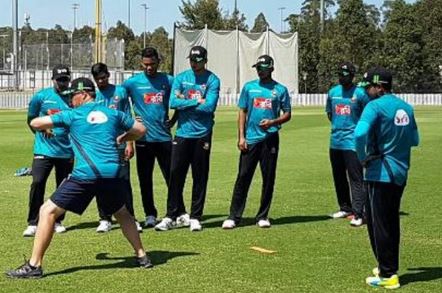 North Sydney Oval is a magnificent field to play," said Bangladesh coach. So the tigers will take the match as a great opportunity to get used to with the condition as they will face New Zealand on similar sort of ground and on similar condition.  All in all, the team is in great shape to start a new season by playing the practice matches.
BCB XI vs Sydney Sixers Match Details
BCB XI v Sydney Sixers match has been scheduled to be started from 6pm local time today (December 14). The match will be started from 1pm according to Bangladesh time. Fans will be able to enter into the stadium from 4pm local time and people less than 16 years will not need to book any ticket. BCB XI vs Sydney Sixers match may not be telecast on any channel as it is just a practice match.
Team Bangladesh and overall condition
Bangladesh will play another practice match against Sydney Thunders, another franchise of Australia, on December 16. Bangladesh coach Candika Hathurushinghe was the main figure behind the scene to arrange these matches. "We will be benefited in a great way after playing the match. Our cricketers will have the opportunity to gain more confidence from here.
To get all the updates of BCB XI vs Sydney Sixers match today and Bangladesh's upcoming match against Sydney Thunders and New Zealand, we are here to serve you with much needed information. Bangladesh Cricket Board (BCB) XI vs Sydney Sixers in the tour matches. Get Bangladesh vs Sydney Sixers Live Scorecard Practice Match Result Today.