Bangladesh football team will face Sri Lanka in Bangabandhu Gold Cup 2016 on January 8, 2016. Bangladesh vs Sri Lanka match will be started at 2:4p pm on next Friday. The match has been allocated in Shamsul Huda stadium Jessore. Before starting a new season in Football, we present all information of Bangladesh vs Sri Lanka Football match which includes Bangladesh vs Srilanka match preview and prediction. Bangladesh vs SriLanka Match Live Telecast Television Channel and Bangladesh vs SriLanka Head to Head result. So to know more about Bangladesh vs Sri Lanka football match, please stay with us.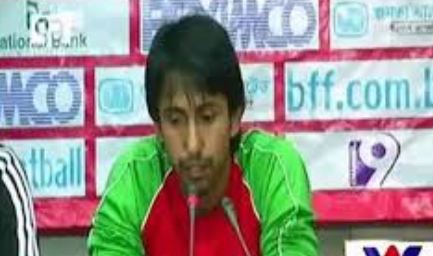 Bangladesh vs Sri Lanka Football Match Preview
Bangabandhu Gold Cup is a football tournament arranged by Bangladesh football match in order to recall the overwhelming memory of founder of the Nation Bangabandhu Sheikh Mujibur Rahman. Bangladesh is in Group A of Bangabandhu Gold Cup 2016 with other teams including Sri Lanka. The tournament will be started on January 8 this year by the match of Bangladesh vs Sri Lanka. Currently both teams are practicing hard with a view to starting the campaign with a great win.
Watch Live on Channel 9 Tv Bangabandhu Gold Cup 2016
Bangladesh vs Sri Lanka football match Live Telecast Television Channel is Channel 9, a private TV channel in Bangladesh who largely telecast the cricket and football matches of the home team. For Bangabandhu Gold Cup Live Streaming information and updates, keep your eyes on our site.
Bangladesh vs Sri Lanka Head To Head Result
Bangladesh had faced Sri Lanka in total 14 times so far. Bangladesh had pleasant memories in most cases as the team had won 9 times. Sri Lanka clinched victory in 2 times only. Rest of the 3 matches were ended as draw. Both teams faced each other last on February 2, 2015 in a friendly International match. Bangladesh had won the match by 1-0.
Bangladesh vs Sri Lanka Football Match Prediction
Bangladesh vs Sri Lanka football match Head to Head result is clearly supportive towards Bangladesh. So it can go without saying that Bangladesh is the favorite in this match. Bangladesh has players like Mamunul, Sohel or Shakhawat Rony who can be proves as the match winner. In addition to that inclusion of Jamal Bhuyan and Ameli will clearly increase the strength of the team. A gentle reminder to you that Bangladeshi defensive midfielder Jamal Bhuyan was the player of the tournament in Bangabandhu Gold Cup 2015. All in all, Bangladesh vs Sri Lanka Prediction will be favoring Bangladesh in Bangladesh vs SriLanka football match.