Bangladesh Football team is going to face Kyrgyzstan in a World Cup Qualifier match which is scheduled on October 13, 2015. As all know, 2018 FIFA World Cup will be held in Russia. For that, football teams all over the world have started their campaign to qualify and participate in the main tournament.
Bangladesh vs Kyrgyzstan Football match is one of the World Cup Qualifier match to select the team from Asia region for World Cup 2018. More details related to Bangladesh vs Kyrgyzstan Football match has been updated below. Feel free to go through that.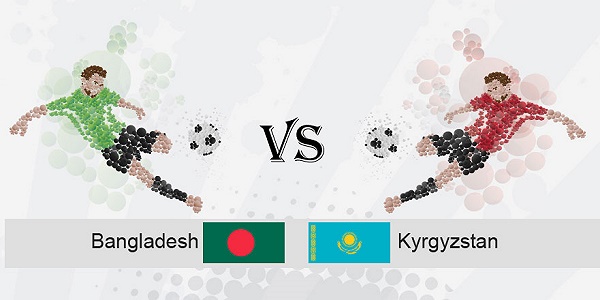 Bangladesh vs Kyrgyzstan World Cup Qualifier Match Details
Match Date: October 13, 2015
Match Day: Tuesday
Kick Off Time: 20:00
Match Venue: Stadion im. Dolena Omurzakova (Bishkek)
Host Country: Kyrgyzstan
Visitor: Bangladesh
 Bangladesh vs Kyrgyzstan Head To Head Result and Recent Performances
Bangladesh vs Kyrgyzstan head to head result is quite satisfactory for Kyrgyzstan as they won both 2 matches played against Bangladesh.  The two Asian teams had faced each other few days ago on the first league match for World Cup Qualifier 2017. Bangladesh unfortunately lost the match by 3-1. In addition to that, the team faced each other in 2007 in a friendly match where Bangladesh were beaten by 3-0. Team Bangladesh is currently not in full swing as they could not managed to seal a single victory in last four matches. Among these, Bangladesh could just draw a match. On the contrary, Kyrgyzstan has done well comparing Bangladesh performance as they have won 1 match and drawn 2 in their last 4 appearances.
| | | |
| --- | --- | --- |
| Bangladesh |  0—2 | Kyrgyzstan |
Bangladesh vs Kyrgyzstan Live Telecast Information
As the match is going to be held in Kyrgyzstan, so it may not be telecast in any Bangladeshi Television Channel. But interested people can search for streaming link of Bangladesh vs Kyrgyzstan WC Qualifier match.
Bangladesh vs Kyrgyzstan Match Squad
Team Bangladesh will start their first campaign under the guidance of new coach Fabio Lopez. Mamunul Islam, as usual will be the captain in the match. Striker Nabib Newaz is the new face in the squad while crucial players like Zahid, Sohel Rana,Yasin and Nasir will not be available in the match due to injury. Wali Foysal is back in team after two years. In addition, Hemonto Vincent, Rezaul and Shakhawat Rony will play against Kyrgyzstan.
Bangladesh vs Kyrgyzstan Match Preview and Prediction
Team Kyrgyzstan is much stronger team than Bangladesh. In addition, Bangladesh will miss the service of player like Nasir and Zahid. Bangladesh is currently staying at the bottom of the table. So it will be a do or die match for Bangladesh to come back. All in all, we except it will be a exciting match to watch and Bangladesh will play better than previous matches.