Two times world cup champion Argentina will face Paraguay in their second match of World Cup 2018 Qualifier. Argentina vs Paraguay match will be held on October 14 this year. Earlier Argentina was beaten by 2-0 against Ecuador in their first match of world cup qualifier 2018.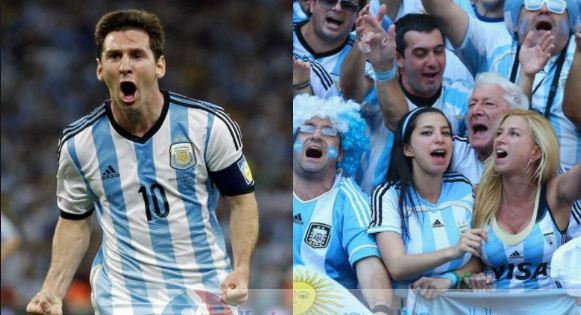 So the match will be a vital one two determine which team will be qualified for next level. More news related to Argentina vs Paraguay has been given below.
Argentina vs Paraguay World Cup Qualifier Match Details
Match Day: October 14, 2015 (October 13 in many countries)
Match Time: 21:00 (Local)
Match Venue: Estadio Defensores Del Chaco (Asuncion)
Match Type: World Cup 2018 Qualifier
Referee: Andres Cunha
Argentina vs Paraguay Head to Head Result
The two Latin American teams had faced each other faced a lot times. As per as our concern the two teams faced each other for 59 times in the history. Argentina vs Paraguay face to face result is satisfactory for team Argentina. Argentina won 31 matches and managed to draw in 15 occasions. On the other hand, Paraguay won 13 times. The two teams last met each other on 30 June 2015 in Copa America where Argentina destroyed Paraguay by 6-1.
Argentina vs Paraguay Football Match Live Telecast and Streaming
Argentina vs Paraguay match will be live on Sony Six HD. In addition to that some foreign channels like beIN Sports and Super Sports 7 will telecast the match live. Interested fans can also search for streaming link and youtube channel to watch the Argentina vs Paraguay match live.
Paraguay vs Argentina World Cup 2018 Qualifier Match Squad
Argentine superstar Lionel Messi will not be available in this match due to injury. Other Argentina forward Sergio Aguero will also not be available in this match due to injury. The team line up of Argentina may consist of Romero, Zabalata, Mori, Otamendi, Mas, Lavezzi, Macherano, Di Maria, Tevez and others. On the other hand, team Paraguay will enjoy the service of some experienced campaigner. Players like Paulo da Silva, Justo Villar, Victor Caceres and Edgar Benitez will play against Argentina in that match.
Argentina vs Paraguay Match Preview and Prediction
Argentina just destroyed Paraguay in their last meeting by 6-1. But on that match they had players like Messi and Aguero. Team Argentina will surely miss the service of them. But still Argentina is a far stronger side than Paraguay. So the chance of winning the match may be in favor of Argentina. On the contrary, Paraguay are very good side with team spirit and skill. They will surely look forward to attack Argentina and take advantages of the opponent's injury problem. All in all, Argentina vs Paraguay match will be a high voltage one that is for sure.