The challenge of Argentina  is now to capture the crown from the  COPA champion. In semi-final Chile defeated Columbia by 2-0 goals though the match was disturbed by  the rain . In the last tournament, Argentina was lost to this team, Chile . Will Argentina able to take the revenge this time?
Argentina vs Chile Today Copa America Final Match Preview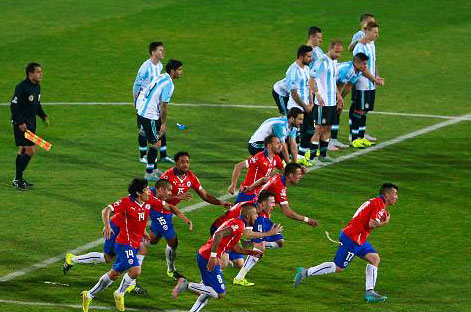 In group match, Argentina started its COPA mission by defeating Chile . But Chilli also enlightens them in due time. They defeated favorite Mexico by 7 goals and they also defeated strong team Columbia easily.
Within 11 minutes of the match was almost finalized. At 7th minute Araguinze and at 11th minute Pedro Fuenzalida made a goal each and with theses, two goals Chile reached to final. Due to heavy rain in Chicago, the match was stopped for a long time. In second half Columbia, the team of Rodríguez tried hard and attacked severely but failed to make any goal.
Chile has got the rebirth in the mid of the tournament. After defeating by Argentina if they made a draw with Bolivia , they would be out from the tournament. But  at that match in additional time the penalty goal of  Arturo Vidal changed the match and Chile won by 2-1 goals . After that in 3 matches they scored 13 goals and now they are going to face Argentina in final and would try to make the match tough to Argentina.
Chile made the 2nd goal before the realization of Columbia . But a great headache for Chile was Petro Hernandez's strike.  He was bound to leave the field  in 30 minutes.
Columbia last faced Chile in 1987 in the semi-final in COPA tournament. At that time they also defeated by 2-1 goals.  This time, after starting the match there were 2 goals in the net of Columbia. There was a hopeful statistics for José Pékerman's team. In 2013 they made a draw by 3-3 goal against this Columbia. With this hope, they starting play after the break. But due to rain, the match was stopped for 2 hours. The field was muddy and in the mean time with the yellow card Carlos Sánchez  was out . All attempt went to ruin and Chile reached to final.
They have the hope to be champion consecutively in the tournament. BUT Argentina is ALSO DESPERATE TO WIN. An amazing final is expected and on next Monday the Final of COPA is going to start. Keeping mind the scenario of last year  this time, is Messi able to stand with the Trophy?