Walsh Can be a turning point for Bangladesh Cricket. He is a cricket legend but the career as a coach is just started. How will be Courtney Walsh as a bowling coach, how much the Bangladesh cricket will be benefited by him ? Here we are going to write about the opinions of Mashrafe Bin Martuza and Taskin Ahmed about Walsh as a coach.
Masrafe Bin Mortaza and Bangladesh Cricket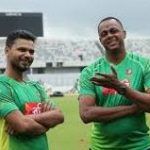 He is excited as walse is his idol in cricket. Courtney Walsh is incredible to Mashrafe . He is too emotional for him. Mashrafe feels Walsh differently from his childhood. He considers Walsh totally different for his bowling action. Mashrafe said that bowling of Walsh is too much smooth and stunning. Mashrafe told that Walsh is a high profile bowler and if we learn a little bit from him, that is much for us. Especially in test cricket to capture 20 wickets, pace bowling is important . For that, his experience is beneficial for the Bangladesh cricket team.For test cricket, we do not have Dale Steyn or any other legendary pacer. We need a pacer who would able to do good performance continuously. Maybe this continuity will reach us to have 300 test wickets. And to develop someone like that , Walsh can help us.
Walsh does not do any coaching before. Mashrafe does not feel that it is a problem. Walsh had a vast experience of fast bowling and he handled different situations. Learning that is a real matter.The presence of Walsh may matter to develop Bangladesh cricket team.
Walsh played 132 test matches. He served his team as a fast bowler for 17 years. How to be feet and keep fit -knowing these things are important and Walsh can make the cricketers learn it well.
Coaching Bangladesh is fulfillment of a dream for Walsh
Lastly, Mashrafe also added that it depends on the person that how much he wants to learn. If all team members wish to learn from Walsh spontaneously, then there is a lot to learn from him. Accepting the learning from the coach is also important. If the Bangladesh cricket team can do that, coming of Walsh as a coach will be a turning point.
Taskin Ahmed –
Taskin feels that he can learn a lot from Walsh. Taskin has heard about Walsh from his childhood and now Walsh is going to be his coach. So, Taskin feels excited too.
Personally, Taskin wishes to learn extra bounce from Wlash. Taskin also wishes to learn the technical matter of extra bounce from a length. So, Taskin is ready to learn how to keep fit, how to protect the injury , how to bowl with long space and so on. He feels it is real opportunity for him to get Walsh as a coach.