Sylhet Sixers Starts Journey Officially of Bangladesh Premier League 2017. With no doubt it can be said that BPL is the most popular tournament that held in Bangladesh. The fifth edition of the tournament is going to be started soon. For the first time, Sylhet Sixers will take part in it. The franchise like its name will represent the Sylhet division of the country and the proceedings have officially been opened from September 10 this year, 2017.
Sylhet Sixers Starts Journey Officially of Bangladesh Premier League 2017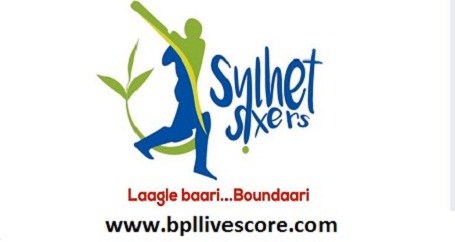 Earlier, the franchise was enlisted finally after many changes and it was working unofficially without unveiling the logo and theme song. But in this week the franchise has officially launched its logo and theme song by an inauguration ceremony with the presence of all the officials. The launching program was happened in Abul Mal Abdul Muhith Sports Complex of Sylhet and it was started from 3 pm on that day.
The franchise was officially launched at 4 pm on September 10. Finance Minister and also the owner of Sixers Abul Mal Muhith was present there with other officials including franchises' Chairman, CEO and many other. A cultural function was held later on to mark the launching of the franchise and it was started from 6 pm on that day. You can watch the BPL Players Auction from www.bdcricscore.com.
Sylhet Sixers Slogan
Sylhet Surma Sixers slogan was also announced on the occasion. The phrase is- 'Lagbe bari, …..boundary'- it is indeed an inspiring one for the one who understand cricket. The Sixers franchise's CEO Yasir Obayed has confirmed about the slogan.
Sylhet Sixers Logo of Bangladesh Premier League 2017
The logo of Sylhet Sixers was also unveiled during the occasion. Sylhet Sixers logo is a nice one. It is a circle shape design in which Sixers and the slogan is written on top with a design with blue green red and yellow color. The logo represent cricket and Sylhet division as well.
If you are a cricket lover and enjoy BPL, do not miss any action of it. Please visit our site as here you will get all the updates of Sylhet Sixers and other BPL franchises, matches and result as well.