Salman Khan and Katrina Kaif to perform in Bangabandhu BPL Opening Ceremony 2019-20. Gazi Television watch live Bangabandhu BPL T20 Opening Ceremony 2019. All the proceedings of the seventh Bangladesh Premier League is going on in full form. So far, most of the teams have made their calls on BPL 2019-20 players draft and the squads of the teams are about to be finalized. But before that, the audience will enjoy a stunner opening ceremony following the regular schedule of BPL.
Salman and Katrina Performance in BPL T20 Opening Ceremony 2019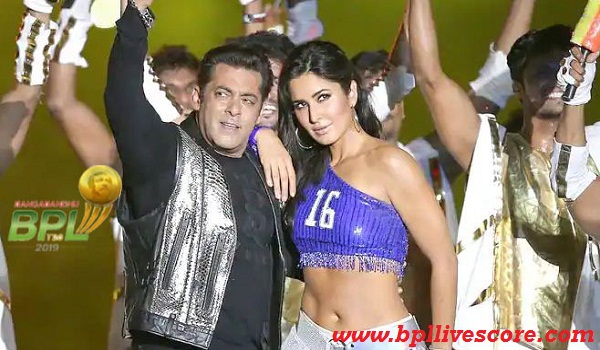 The opening ceremony of Bangladesh Premier League will be a stunner as Indian superstar Salman Khan and Katrin Kaif will visit Bangladesh in order to participate in the opening ceremony of BPL 2019-20. More details on that topic will be found here, please continue to read.
As you all know, Salman Khan is a megastar, especially in the subcontinent. When it comes to Bangladesh, Salman Khan has a huge fan following here as well. There is a lot of fan of Salman Khan here and they follow every part of his life including his movies, career and so on. Earlier, it was said that the BPL Governing council is trying hard to bring Salman for the opening ceremony along with Katrina Kaif, who is another mega-star from India.
Although Katrina's appearance on the BPL opening ceremony was almost confirmed, it was not sure whether the superstar Salman Khan will take part in the program or not. But the BPL committee has recently confirmed that Salman Khan will visit this time and he will be the key figure on stage in the BPL opening ceremony.
See Also: BPL 2019 Opening Ceremony Live Salman Khan and Katrina Concert
Apart from Salman Khan and Katrina, it was said that Bollywood star John Abraham, Tiger Shroff, and music legend A R Rahman might visit Bangladesh to perform in the BPL opening ceremony. All in all, the BPL opening ceremony of 2019-20 will be a grand show that should not be missed.
When Will be BPL 7 Opening Ceremony?
The opening ceremony of BPL 7 has been scheduled to be taken place on December 8, 2019. The matches of Bangabandhu BPL will take place from December 11.
Get more updates on the BPL opening ceremony and BPL 2019 matches here on our site. Keep visiting us and remain informed about all the proceedings of BPL 2019.