Nepal vs Bahrain Live Streaming Final Bangabandhu Gold Cup 2016. Bangabandhu Gold Cup 2016 will be ended tomorrow by the match of Nepal vs Bahrain. Nepal vs Bahrain match will surely be a high voltage and must watch one. Keeping that in mind, here we present Nepal vs Bahrain live streaming final match of Bangabandhu Gold Cup 2016 which includes all information like Nepal vs Bahrain match preview and prediction, Bahrain and Nepal live telecast information.
Nepal vs Bahrain Live Streaming Final Match Bangabandhu Gold Cup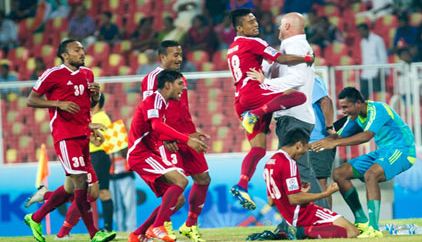 Nepal and Bahrain Final Match Schedule. Nepal vs Bahrain match will be held on 22 January, 2016. The match is supposed to be started from 5 pm according to Bangladeshi Time. Nepal v Bahrain final match of BGC 2016 will take place in Bangabandhu National Stadium.
Where to Watch Nepal vs Bahrain Final Match?
Channel 9 is the official broadcaster of Bangabndhu Gold Cup 2016. So Nepal vs Bahrain football match of Bangabandhu Gold Cup will be telecast live on Channel 9. Bangladesh Television also exists in the process of Nepal v Bahrain final match live telecast TV channel. Watch live Nepal vs Bahrain Final  Match Of angabandhu Gold Cup 2016 on Channel 9 tv in Nepal & Bangladesh.
Bahrain and Nepal in Bangabandhu Gold Cup 2016
Nepal was the runner up of Group A wining 1 match and having 2 draws. They won the match against Sri Lanka and had draw against Bangladesh and Malaysia XI. In the semi final they faced Maldives. Nepal secured massive 4-1 win against Maldives and joined the final with full form.
Bahrain on the other hand, was the runner up team in Group B. They also had a win against Cambodia and had two draws against Bangladesh U23 and Maldives. In the semifinal, the team beat Bangladesh national team by 1-0 and reached in the final match of the tournament.
Nepal vs Bahrain Final Match Preview and Prediction
Although Nepal started the tournament with in a defensive way but the team finally came back to devastating form while beating hot favorite Maldives by 4-1 in the semi final. Nepal team squad has few talented players like Magar, Nawajug Shrestha, Bishal Rai and Robin Shrestha. Among them Nawayug Shrestha scored a hat trick in the semi final and will be a great threat for Bahrain.
Bahrain on the other side has players like Jasim Alshakikh, Abdul Aziz Al Shaikh, Anwar Ali and Ebrahim Alhooti. Among them, Ebrahim Alhooti had scored in the semi final against Bangladesh. These players will be the key factors for Bahrain in this match.
When it comes to Nepal vs Bahrain match prediction, then it is obviously not so easy to predict. Both teams did not seem the favorite in group matches but somehow managed to stay in the final. So it is actually anybody's game and the tam having better day in green lane will win the match.