The grass touched the wicket and it was a perfect combination of bat and ball. The bowling of Mustafizur Rahman was not gripped too much. Cutter is not that much dangerous. But Mustafizur gave the right answer to this wicket. He presented another  super bowling performance with full-length bowling.
Mustafizur Rahman Wickets In (IPL) Indian Premier League 2016
Mustafiz  captured 1 wicket by giving 32 runs in 4 overs. If two boundaries were not  due to miss-fielding, the  statistics would look more figurative.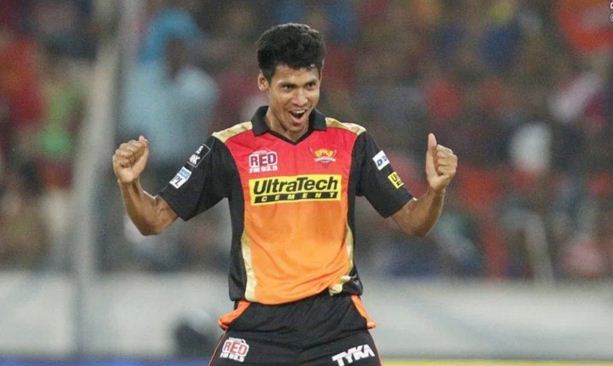 Mustafiz Along with other pacers' marvelous bowling , the base of victory is founded and then David Warner  came like a storm of the run. In the third match of   the tournament, Sunrisers attained their first win . They defeated Mumbai Indians by 7 wickets.
In Hyderabad , Mumbai scored 142 runs with 6 wickets in 20 overs. Hyderabad won when they had still 15 balls to play.  Warner started with a six against Michael McLean's ball. He was undefeated by 90 runs in 57 balls.
Before that, Mustafiz sparked with his bowling. As cutter was not working ,so he gave attention to his full-length bowling. He did lots of regular speed  bowling  and  it was up to 142-143 km . He captured   the  only wicket by an interesting Yorker . At 19th over of the match and in his last over, he put stressed on Hardik Pandya's stamp. Another wicket was about to fall but no.
In addition with Mustafizur, another left-handed pacer Barinder Sran did very well bowling. He attained 3 wickets only for 28 runs. Again Bhubaneswar took one wicket only by giving 17 runs.
Bhubaneswar first  came to the front line by defeated Martin Guptill (2)  , the first time appointed in IPL . Sran out Parthiv Patel (10) and Josh Butler (11) . Forth batsman captain Rohit Sharma was run out.
At eleventh over only by 60 runs, Mumbai lost 4 wickets.  But from there, Ambati Rayudu and Krunal Pandya was keep running the team.  Rayudu made 54 runs in 49 balls  and Krunal, the elder brother of Hrithik Pandya  did 49  runs in 28 balls. He faced left-handed  spinner Bipul Sharma  with consecutive 3 sixes.
In slough overs, due to Mustafiz's extraordinary bowling, Mumbai, the last year champion  was unable to reach 150 runs . And later, by Warner's batting , Hyderabad easily  crossed  that   target. Mustafiz had a smile of victory.