Mahmudullah keen to work with Jayawardene, looking for good local players. Mahmudullah Riyad, the captain of BPL franchise Khulna Titans, is one of the key figures of his franchise. Khulna Titans could manage to place them in the top 4 in last BPL and Mahmudullah Riyad with bat and ball and brilliant captaincy contributed the most. Meanwhile, Sri Lankan great Mahela Jayawardene has joined Khulna Titans as the coach and it will definitely add up the strength of the team. Amidst this situation, captain Mahmudullah has expressed his keen interest to work with the prolific Sri Lankan ex cricketer Jayawardene.
Mahmudullah keen to work with Jayawardene in BPL 2017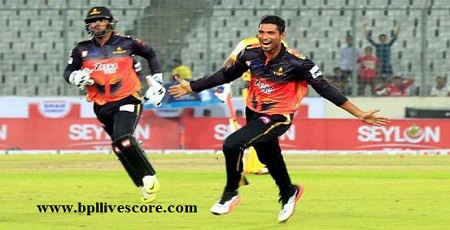 Jayawardene will work with the Khulna Titans Franchise for next two seasons and both the young and experienced cricketers of the side will be able to come closer to this legend. Mahmudullah pointed at this aspect and expressed his eagerness to work with Mahela Jayawardene which is indeed one of the greatest batsmen of modern era. To express his interest Mahmudullah said, "Mahela achieved so much for his country. It will be a great learning opportunity especially for the young cricketers as they will be working under the guideline of him. I hope he will have a great time working here. "
Meanwhile, team selection process of Khulna Titans is already underway and it should be said that the foreign player collection of the franchise is outstanding so far. Players like Chris Lynn, Sarfraz Ahmed, Kyle Abbott, Junaid Khan, Sadab Khan, Seekkuge Prasanna and Rilee Rossouw have been added to the squad, forming a strong enough to be one of the favorites of BPL 5. However, while asked about the squad Mahmudullah said he was actually looking for the domestic cricketers.
Khulna Titans Captain Mahmudullah excited to work with Jayawardene
According to him, local players will make the difference as only a few foreign players will be included in the first 11 as per as the rules. "I hope we will be able to add good local players in our squad as it is impossible to bring positive result without full team effort," Mahmudullah observed. "Local players will have to play vital roles with the foreigners to do well in upcoming BPL," he went on to add.
Fifth edition of BPL will be started from 4 November this year. BPL 5 Players Auction will be held on 16th September, 2017. Watch BPL Live Streaming on www.bpllivestreaming.com . We will upload more articles including the team squads and other updates. So please visit us regularly.