Nepal U19 vs India U19 Live Score Match Result Youth U19 Asia Cup 2016. 8 teams of Asia are about to lock horn with each other as U19 Youth Asia Cup has been started in Sri Lanka. All the teams are prepared enough and team India are also all set to start their proceedings. On the process, India is going to face Nepal U19 in their second match of the competition.  A brief discussion on India U19 vs Nepal U19 match has been given here so that our readers can have a clear idea about the exciting tournament that is trending in Sri Lanka at present.
India U19 vs Nepal U19 Match Live Scorecard & Today Match Result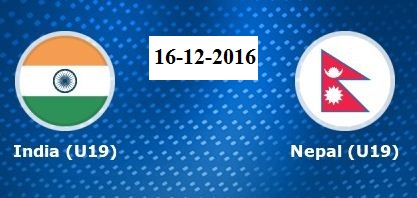 India U19 vs Nepal U19 match has been scheduled to take place on December 16, 2016. The match will be a match of Group A. In group A India stays with Nepal, Malaysia and Sri Lanka. India U19 vs Nepal U19 match will be started from 10 am local time. In GMT, the match will start at 4:30 while it is 10:30 am in Bangladesh time. The match may not be telecast in any channel though it is not sure so far. However, India U19 v Nepal U19 match streaming may be found in Star Sports, Hotstar and youtube.
 Under 19 Youth Asia Cup 2016
Ij total 8 teams are playing in Asia Cup this time in Sri Lanka.
Group A: India, Malaysia, Nepal, Sri Lanka
Group B; Bangladesh, Pakistan, Afghanistan and Singapore
To get all the updates of U19 Youth Asia Cup 2016, stay connected with us.
India U19 Team: Big Gun of U19 Asia Cup 2016
India U19 team is one of the favorites of ongoing U19 Youth Asia Cup in Sri Lanka. The team will be led by Abhishek Sharma, an all-rounder from Punjab who is very much talented. Abhishek is basically a middle order batsman who can also come handy with his slow left arm bowling. Few days ago he played a brilliant 226 run knock at Vijay Marchant Trophy. Among other players of India U19, Prithvi Shaw, Chandan Sahani, Rishab Bhagat, Izhan Ashfaque Chowdhury and Shiva Singha are the promising Indian cricketers who have all the ability to go further.