India U19 team is going to face Canada U19 team on 23 January in a warm up match. Ind U19 vs Can U19 Warm up match is a part of recently declared warm up match schedule of ICC under 19 World Cup 2016. Before staring the match of India U19 vs Canada U19, here we present India U19 vs Canada U19 match preview, India U19 vs Canada U19 Prediction and all other relevant information.
India U19 vs Canada U19 Warm Up Match Preview U19 World Cup 2016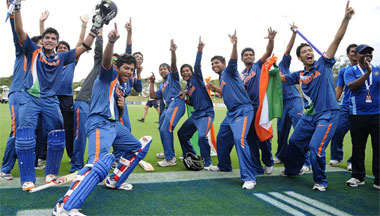 India U19 is obviously a strong side and one of the desiring candidates of ICC under 19 trophy. Team India will be led by promising Indian U19 batsman Ishan Kishan. Rishab Pant had been appointed as the vice captain of India U19 team. India U19 team squad also featuring Washington Sundar, Sarfaraz Khan, Amandeep Khare, Arman Jaffer, Zeesshan Ansari, Anmolpreet Singh, Ricky Bhui, Mayanak Dagar and few others.
India U19 vs Canada U19 Live Warm up Match
Match Day: January 23, 2016
Match Venue: Ground Number 4, Bangladesh Kria Sikkha Protisthan (BKSP)
Match Type: Youth One Day match
Tournament: Warm Up Match of ICC Under 19 World Cup, 2016
Canada U19 on the other had participated in ICC Americas U19 Division 1 Championships and managed to get the chance to attend in ICC under 19 World Cup 2016. Canada U19 team has some players named Arslan Khan, Athursaanath Anantharajah, skipper Muhhamad Khan, Harsh Rgaker and Sarbjot Silvia who had played well in ICC Americas Division 1 Championships. Ball by ball live score India U19 vs Canada U19 practice match of ICC Under 19 Cricket World Cup, 2016 in Bangladesh.
India U19 vs Canada U19 Practice Match Prediction
It can go without saying that India is the favorite in Ind U19 vs Can U19 Practice Match. India U19 is one of the best under 19 teams at present which represents a bunch of youth cricketers who are counted as the future of India. India U19 players like Ishan Kishan, Sarfaraz Ahmed, Washington Sundar, Amandeep Khare and few others had already become the favorite subjects for Indian cricket journalists. India had all together won the U19 title for 3 times and no doubt will look forward to make it 4. Canada U19, on the contrary has promising players like Mohammad Khan or Sarbjot Silvia, but still they are well behind than team India U19 in terms of possibility to secure a win in Ind U19 vs Can U19 Warm up match ICC under 19 World Cup 2016.
Key Points of ICC under 19 World Cup 2016
ICC U19 World Cup 2016 main round will be started from 27 January, this year in Bangladesh. The first match will be held between Bangladesh U19 and South Africa U19. In total, 48 matches will be played. ICC under 19 World Cup 2016 will be ended in 14 February, 2016.