Dhaka Mohammedan, being one of the most prestigious clubs in Bangladesh football arena is going to face East Bengal today in the semifinal of Sheikh Jamal international club cup 2015. According to the schedule, the match will be started from 7.40 pm today.  East Bengal is also a widely reputed football club from India. Earlier, Sheikh Jamal club, originated from Bangladesh had arranged country's first ever international club tournament.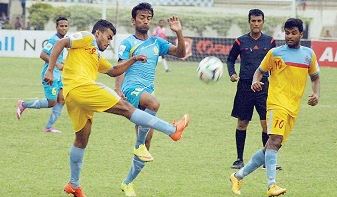 After witnessing some excited matches in this cup finally we are moving to the later level of the tournament which introduces semifinals followed by the final. More news related to Dhaka Mohammedan vs East Bengal has been provided in the later part of the news.
Dhaka Mohammedan vs East Bengal Football Match
Match Day: October 28, 2015
Match Time: 7.40 pm (BDT)
Venue: MA Aziz Stadium Chittagong
Match Type: Semifinal of Sheikh Jamal International Club Cup 2015
| | | |
| --- | --- | --- |
| East Bengal | 3—0 | Dhaka Mohammedan |
Dhaka Mohammedan vs East Bengal Match Live Telecast Information
As pern as our concern, Channel 9 will telecast the East Bengal vs Dhaka Mohammedan match live from 7.40 pm according to Bangladeshi time. In addition to that, you can search in online to find live score.
Dhaka Mohammedan vs East Benga: Road to Semifinal
Dhaka Mohammedan  started the tournament with 1-0 defeat against Bazan. But the team bounced back in style with a huge 6-1 wins against Solid ACC. After that the team secured their place in semifinal after beating Kolkata Mohammedan by 2-1 and becoming the runner up of the group.
On the other hand, East Bengal reached semifinal becoming the champion in Group B. They made a draw in the last match against Dhaka Abahoni.
Dhaka Mohammedan vs East Bengal Match Squad and Preview
Dhaka Mohammedan is fighting with injury problems. Winger JuyelRana and midfielder SohelRana will not be availabale in the match due to illness. Mobarak and Ibrahim is also suffering from fever. Arup Boidya will remain the captain as usual. Foysal and Jony may also play the match.
East Bengal in the contrary has a squad having less injury problem. DibenduBiswas will be one of the key players in this match. The East Bengal Goalkeeper has just conceived 2 goals in the tournament. In addition to him, Prohlad Ray, Mohammad Rafique and Subodh Kumar may also prove handy in this match.
All in all, East Bengal is the favorite in the match. But Dhaka Mohammedan will enjoy supports from the gallery which will surely boost up their confidence.