There are total 6 teams in the Bangladesh Premier League T20 edition 3, their owners, BPL 3 Sponsors, franchise owners and official statistical information of all the teams of BPL 2015. BPL 3 opening ceremony will be held on 22 September, 2015 at Sher-e-Bangla National Cricket Stadium, Mirpur.
But BPL 3 1st T20 match will be started from 24 Sep, 2015. BPL 3 authority do not published BPL full fixture and schedule 2015. Here we are provide BPL T20 owners, BPL 3 Sponsors, franchise owners, BPL match fixture, BPL match ticket, BPL opening ceremony live broadcast tv channel list, BPL opening ceremony ticket and official statistical information.
Dhaka Gladiators (Beximco Group)
Chittagong Kings (DBL Group)
Barisal Burners (Axiom Group)
Rangpur Riders (Sports Limited)
Sylhet Superstars (Alif Group)
Comilla Victorians (Royal Sporting Limited)
BPL 3 Title Sponsor, Official Live Streaming & Stadium Rights:
The BPL 3 will be known as BRB Cables BPL 2015 as the BRB Cables has got the title sponsorship and stadium rights of this BPL. BPL official live streaming website.
More news of BPL 3 will be updated on this post later. So, stay with us to get more valuable information bpllivescore.com.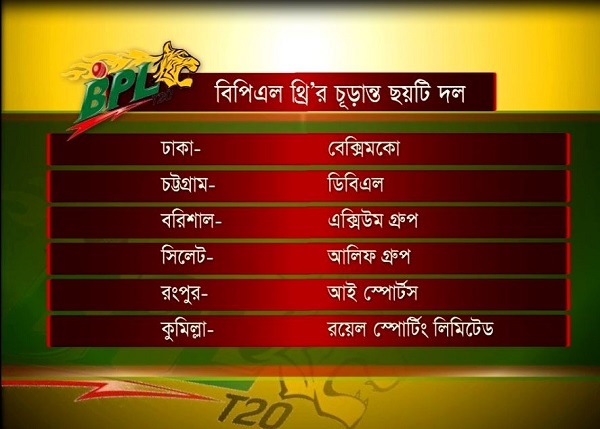 BPL T20 Venue List 2015
Sher-e-Bangla National Cricket Stadium, Mirpur.
Zahur Ahmed Chowdhury Stadium,  Chittagong.
Sheikh Abu Naser Stadium, Khulna.
Dhaka Gladiators: 
Beximco Group : The Dhaka Gladiators franchise owned by Ahmed Sohail Fasiur Rahman and Ahmed Salman Fazlur Rahman, a primarily a commodities trading company to a leading, diversified group with a presence in industry sectors that account for nearly 75% of Bangladesh's GDP. BEXIMCO's corporate mission is "Taking Bangladesh to the world".
Chittagong Kings:
DBL Group : Mr. Abdul Wahed Prasad is the genuine owner of the team who is the Chairman of DBL Group. DBL Group is a diversified business entity which has vertically integrated textile and apparel manufacturing facilities, with concerns in ICT & Telecommunications and Ceramic Tiles. DBL Group started business in 1991 and till date it has resulted in a conglomerate of 18 concerns.
Barisal Burners:
Axiom Group : Shaheen Anam is one of the most successful Chairperson in Axiom Group. She completed her M.Phil. from USA and is presently head of 'Manush er Jonna' project of CARE, Bangladesh a Non Government Organization (NGO) engaged in human resource development efforts. Mrs. Anam formerly worked for UNDP and has vast experience in the development field.
Rangpur Riders:
I Sports Limited : BD Sport Rights is helping establish BD Sport Group as the pre-eminent sport gaming service provider in the industry and further develop our sports and betting offering.
Sylhet Superstars:
Alif Group : [Mohammed Sujauddin Prasad is the genuine owner of the team. ALIF Group is a speedy growing and trustworthy Group of Bangladesh working since past decades in the Export, Real Estate, Trading, Poly Fibre and other lucrative sectors. It's Mother Concerns Alif International has emerged as one of the sustainable and consistent exporter of the country.
Comilla Victorians :
Royal Sporting Limited : The franchise owners of 'Sylhet Royals' has decided to change the name of their team to 'Comilla Victorians' and it has been finalized by BPL 3 Governing body. The Chairman of the franchise Nafisa Kamal has announced the matter clearly in an interview with NTV last night.