Bowling Action of Taskin and Sunny is Valid i International Cricket. Taskin Ahmed and Arafat Sunny has passed the test for their bowling action. The International Cricket Council (ICC) on Friday announced that independent assessments found the bowling actions of Bangladesh's Taskin Ahmed and Arafat Sunny to be legal. So, the confusion regarding their bowling action which was first raised in T-20 world cup Tournament is now over.
International Cricket Council (ICC) has declared that Tskin and Sunny have successfully passed the test for their bowling action. And from now there is not a restriction for them to play international cricket. Taskin will be in Bangladesh team in the series against Afghanistan.
Download Taskin Actual Bowling Action In The Channai Lab Result 2016
Umpires was raised objection after the match against Holland last 9th March. They tested for their bowling action in Chennai and ICC declared them prohibited in international cricket due to their failure. After that, they again have given the test for justifying their bowling action on 8th September in National Cricket Center at Brisbane . It was supposed to declare the result after 2 or 3 weeks . But ICC has declared it earlier and they informed that these two bowlers' bowling action  are accepted now. The Turning measurement of their elbow (15 degrees) is acceptable. So, these two bowlers have no hindrance for bowling in international cricket.
Bowling action of Taskin, Sunny valid: ICC
Before the result of the bowling action , the selector was expecting that Taskin would pass the test and they reserved the space for him in the team in the series against Afghanistan. So, as the 14th members, he is included in the Bangladesh team.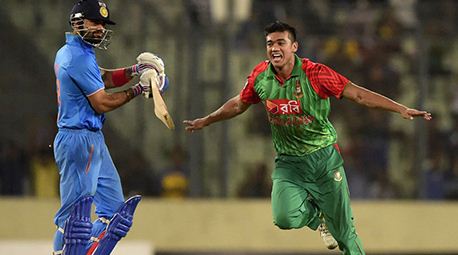 Arafat Sunny and Taskin Ahmed were reported after their side's qualifier match in the ICC T20 World Cup in India 2016 against the Netherlands cricket team in Dharamsala on the 9th March. The independent assessments were performed at the ICC-accredited testing center in Chennai.