AFC U-16 Championship 2016 Qualifiers: Bangladesh under 16 football team is going to face UAE under 16 football team today. Bangladesh vs UAE U16 football match will going to be held today at 6 pm. Bangladesh is the host in this football competition. This football match will be a played as the qualifier match of AFC under 16 championships.
Earlier team Bangladesh had played against Saudi Arabia. But unfortunately Bangladesh lost the match by 5-1. So Bangladesh under 16 vs United Arab Emirates under 16 football match will be a great chance for Bangladeshi young stars to get something memorable. More news related to this has been provided below.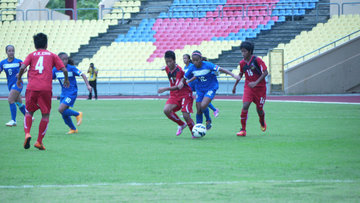 Bangladesh U16 vs UAE U16 Match Details
Match Day: September 18, 2015
Match Time:  6 pm (Bangladeshi Time)
Match Venue:  Bangabandhu National Stadium, Dhaka
Match Status: AFC Under 16 Championship Qualifier Match
Bangladesh vs UAE U16 Today Football Match Result
Which Television will live telecast Bangladesh U16 vs UAE U16 Match?
| | | |
| --- | --- | --- |
| Bangladesh U16 | 1–6 | UAE U16 |
Bangladesh Television commonly known as BTV will telecast the Bangladesh U16 vs UAE U16 match live from 6 pm today local time.  As BTV is available throughout the country, it can go without saying that people all over Bangladesh will get the opportunity to enjoy the match. Get football match result Bangladesh vs UAE Under 16 team.
Bangladesh vs UAE U16 Match Squad
Bangladeshi under 16 football team goal keeper Faysal Ahmed got red card in the last match. NurAlam will be playing as the goal keeper today instead of Faysal. As per as our concern, there will be no big chance even after the huge 5-1 defeat in the last match.
Bangladesh U16 Vs UAE U16 Match Preview and Prediction
Bangladesh Under 16 football team has been out of form for a while as they lost their last 5 matches. Bangladesh U16 vs United Arab Emirates U16 head to head result will most probably be in favor of United Arab Emirates. Bangladeshi forward Nipu will be crucial player for Bangladesh as he scored the only goal for his team in last match. Along with him, Mustazib Khan and Mohammed Hridoy may also proved as key player for Bangladesh in this match. But lose of Faysal Ahmed due to red card is off course a big minus point for team Bangladesh. Although having some difficulties, team Bangladesh can fight back today.
On the other hand, UAE coach Abdullah Abu Shahin is very much confident to win the match. Hopefully, this will be a very delightful match from Bangladeshi aspects.