Bangladesh vs Malaysia Live Streaming Bangabandhu Gold Cup Football Tournament 2016. Bangladesh national team will face Malaysia XI in their second match of Bangabandhu Gold Cup on January 13, 2016. Watch live on Channel 9 Tv Bangladesh vs Malaysia Bangabandhu Gold Cup 2016. Bangladesh had a flying start in Bangabandhu Gold Cup as they win their first match.
Here you will find all information including Ban vs Mala, Bangladesh vs Malaysia Preview, Bangladesh vs Malaysia Prediction and Bangladesh vs Malaysia Live Telecast Tv Info.
Bangladesh vs Malaysia Today Match Result of Bangabandhu Gold Cup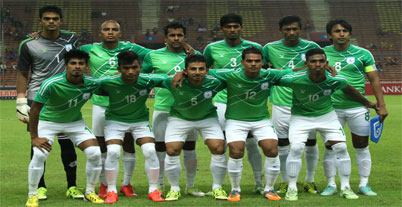 Bangladesh Vs Malaysia XI Match Preview. Ban vs Mal match will be started from 6.30 pm local time. The match will be arranged in Bangabandhu National Stadium. The match will be very much vital for team Bangladesh to secure their place in Bangabandhu Gold Cup Points Table. Bangladesh vs Malaysia Live telecast tv channel is Channel 9. Channel 9 will be providing Bangladesh vs Malaysia football match live streaming from 6.30 pm onward on the match day.
Bangladesh vs Malaysia Squad
Bangladesh Squad for Bangabandhu Gold Cup 2016: Bangadesh national team captain is Mamunul Islam. Bangladesh squad for Bangbandhu Gold Cup 2016 also featuring Shakawat Hossain Rony, Hemonta Vinsent Biswas, Topu Barman, Atiqur Rahaman Meshu, Waly Faisal, Sohel Rana, Monaem Raju, Nasir Uddin,  Mithun Chowdhury,  Rayhan Hasan, Rasel Mahmud, Zahid Hossain, Jahid Hasan Ameli, Ashraful Islam Rana, Jewel Rana, Nasirul Islam Nasir, Nabib Newaj Zibon Sheikh Alamgir Kabir Rana, Sahidul Alam, Jamal Bhuyan, Yeasin Khan and Yeamin Ahmed.
Malaysia XI Squad: Malaysia XI is actually a club named Felda United. The squad of Malaysia is- Shukor Adan (captain), Danial Nasir, Abdullah Pula, Hadin Azman, Firdus Faudzi, Ridzwan Razali, Ahmed Yahya, Hasni Zaidi, khairul ismail, Shafizie Sazali, Bobby Gonzales, Khairul Ismail, Abdul Shuukur, Faizal Harun, Sivanesam Shanmugan and few others.
Bangladesh vs Malaysia Head to Head Result
Malaysia had a pleasant memory in the last Ban vs Malaysia Head to Head result of Bangabandhu Gold Cup 2015. In the last edition of this tournament, Malaysia beat Bangladesh by a injury time goal and secure the trophy for 3-2 win. So Bangladesh vs Malaysia football match will be a tough battle of two rivals that is for sure.
Bangladesh in Bangabandhu Gold Cup 2016 Points Table
Bangladesh is currently in number 1 position in Bangabandhu Gold Cup Points table. In their first match they beat Sri Lanka by 4-2. Shakhawat Rony scored twice to ensure the win for the nation.
Malaysia XI in BGC 2016 Points Table
Malaysia XI or Felda United had a goalless draw in their first match against Nepal. Currently they are in number 3 position of Group A with 1 point.
Bangladesh vs Malaysia Football Match Prediction
Bangladesh will be the favorite in Bangladesh v Malaysia football match. Even though Malaysia has a better head to head record but there are other reasons. Firstly, this is not actual Malaysia National side. Felda United is a team which is not even the best football club of Malaysia. In addition, this Malaysia XI team has fewer stars than the team participated in Bangabandhu Gold Cup 2015. Bangladesh win against Sri Lanka will also encourage team Bangladesh to grab the opposition and clinch another win.