Bangladesh vs Australia football match will be held on 17 November 2015. Safety has taken a lot of attention of this match. Australia Football team was supposed to came on 14th November in Bangladesh. But, Due to security issue Australia Football team changed their decision at the last moment and they made a plan of 24 hours short visit to Bangladesh.
In this circumstance, Bangladesh Football Federation (BFF) said that, there will be no lacking during the match and security around the stadium has been stepped up. There will be four levels of security inside the stadium. Not only that, law enforces in plainclothes will take alert place in the big buildings around the stadium. All in all, more information about this match is given below.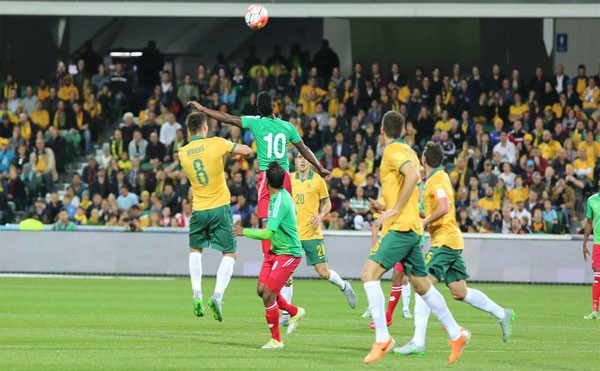 Bangladesh vs Australia Football Match Details
Match Type: FIFA World Cup Qualifier (2nd leg)
Date: 17 November 2015
Time: 05:00 PM (Local Time)
Venue: Bangabandhu National Stadium, Dhaka
Host: Bangladesh
Visitor: Australia
Bangladesh vs Australia Football Match Live Telecast TV Channel
Bangladesh vs Australia football match will be live telecast in many channels. Among them Channel 9 and Bangladesh Television (BTV) will telecast this match in Bangladesh. Most probably Sky Sports can also telecast this match. But, we are not been informed yet which television channel will telecast Bangladesh vs Australia football match in Australia.
Bangladesh vs Australia Squad
Bangladesh Team: Russel Mahmud, Ashraful Islam, Waly Faisal, Nasirul Islam, Nasiruddin, Raihan Hasan, Yeamin Ahmed, Kesto Kumar, Mamunul Islam(Captain), Jamal Bhuyan, Sohel Rana, Hemanta Vincent, Faisal Mahmud, Masuk Mia Jony, Toklis Ahmed, Shakhawat Rony and Nabib Newaz Jibon
Australia Team: Mathew Ryan, Adam Federci, Jason Davidson, Ryan McGowan, Trent Sainsbury, Alex Wikinson, Mark Milligan, Tommy Oar, Aaron Mooy, James Troisi, Mile Jedinak(Captain), Matt Mckay, Tim Cahill and Nathan Burns.
Bangladesh vs Australia Head to Head Result
Bangladesh has faced Australia in only one match and lost the match by 5-0. It was the away match of Bangladesh against Australia. This match was held on 3 September 2015 in Perth, Australia.
Bangladesh vs Australia Match Preview and Prediction
Australia is in 60th position in FIFA ranking while Bangladesh are in 180th position. So far, Bangladesh is winless in their world cup qualifying mission. Bangladesh is currently at the bottom of the point table in Group B with only one point. On the other hand, Australia lost only one match and won four matches so far. Australia is currently in second position in Group B with twelve points. Again, Bangladesh lost the 1st leg match against Australia by 5-0 on September 3 in Perth, Australia. So, it is not hard to tell that Australia is clearly the favorite for this game and they have more chance to win this match than Bangladesh.
Bangladesh vs Australia Football Match Result
Bangladesh vs Australia football match result will be available on this site
www.bpllivescore.com