Bangladesh Premier League Football Match Schedule and Fixture 2016. Trophy and logo of JB Bangladesh Premier League, 2015-16 is  unveiled through dancing, singing , modeling of 12 captains and lot of fireworks. It looks like Champion league trophy.
Bangladesh Premier League Football Match Live Telecast Tv Channel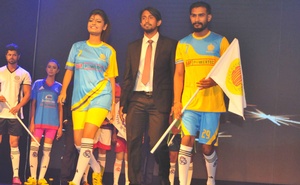 All, the guests, officials of Football federation, franchises are hopeful with the expected success of this tournament. The look-alike of the Champion trophy conveys a message that professional football of Bangladesh is coming with exciting promises.
The trophy has unveiled at Pan Pacific Sonargoan Hotel in capital Dhaka. Everybody, there are hopeful and determined to get back the golden days of football in Bangladesh. The new dimension of this Bangladesh Premier League Football has new promises.The tournament will start on 24th July. The venues are situated in Dhaka, Mymensign, Sylhet, and Chittagong. By fixing the venues 75% out of Dhaka , the excitement and pleasure would be spreader all over Bangladesh. This is the first time , 132 matches will be broadcast by directly to the television. Youth and sports minister Mr. Biren Shikdar is too much optimistic for the success of the tournament. He has declared to build mini stadiums in Upazila level to spread out the practice of football.
Minister said,'' Football is a sport of the life of Bangladeshis. For the various reason, it is now a step back. But we have to pull it forward. THE PRESENT SPROT FRIENDLY government has taken steps to construct a stadium in each Upazila. For fulfill that promise, the construction works of  490 stadiums are going on. Next, we will call tender for more 131 stadiums.''
The chairman of Bangladesh Football federation Mr. Kazi Salauddin said delightedly,'' I believe we all work united, we can get back our glorious tradition of Football.We are here together for football. Why do not our football could attain an international standard?If I can play internationally, why not our football players play in international level?''.
Mr. Tarafder Ruhul Amin , Chairman of the franchise who has bought the patent of the league for next 5 years, Saif Global Sports has promised to organize the league more perfectly in future. He said,'' To get back the golden history of our football, we would like to organize this year league differently. For differing reasons, the first attempt has to finish swiftly. Next time we will organize it more flawlessly. ''
Bangladesh Premier League Football Tournament Points Table 2016
The chairman of BFF, Mr. Kazi Saluddin is very thrilled for arranging the tournament. He expected cooperation from all. He also believes that this tournament would help to place out national football in international level.
In the trophy unveiling program. There were also  youth and sports minister Mr. Biren Shikdar, Bangladesh Premier League Football sponsor JB group and higher officials of Saif Global Sports Ltd.