Asia Cup 2016 will take place in Bangladesh from February 24, 2016. This time Asia Cup will be in T20 format. Considering the craze of cricket in Bangladesh today we will discuss about Asia Cup T20 Ticket. We will also guide you about how to purchase Asia Cup T20 Ticket. Now here available Asia Cup T20 Ticket 2016.
How To Purchase Asia Cup T20 Ticket 2016 by Online
Asia Cup Ticket will be available in United Commercial Bank (UCB). The sale of Asia Cup Ticket will be started from the third week of February, 2016. The bank authority has finalized few branches to sell Asia Cup Ticket 2016.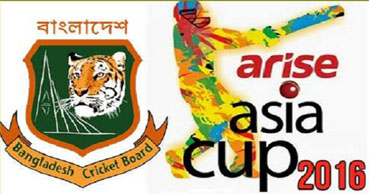 The branches are in Uttara, Basundhara, Bijoynogor, Mirpur Road and Mirpur for the matches which will be arranged in Sher e Bangla National Cricket Stadium Dhaka. The branches for Fatullah Stadium matches are Tanbazar, Paglabazar and Chashara of Narayngonj.
 Asia Cup Ticket 2016 by UCash
UCash is the mobile transaction system of United Commercial Bank. You can purchase the Asia Cup tickets by UCash also. For this you need to pay the ticket fee via mobile transaction and after that the match ticket can be collected from nearby booth or branches approved by the bank.
 Asia Cup T20 Ticket Price
There are several categories in Asia Cup T20 Ticket Price. These are as follows
Asia Cup T20 Ticket Price for Mirpur Stadium: Mirpur Stadium Ticket price may vary from 200 to 4000 taka. Eastern Gallery ticket price is 200 taka while Western Gallery will cost 400.  International Gallery worth 800 taka and Grand Stand may be up to 4000 taka.
Asia Cup T20 Ticket Price for Fatullah Stadium: Fatullah Stadium Ticket Price for Asia Cup 2016 may be the same as stated above.
 How to Purchase Asia Cup T20 Ticket?
Asia Cup T20 Ticket Buy Online service will be provided by easy.com. The website link to purchase Asia Cup T20 Ticket via online is as follows
www.easy.com.bd
In addition to that, Asia Cup Ticket from UCash and United Commercial Bank is also available as stated in the beginning part of the writing.
Asia Cup T20 2016
According to Asia Cup T20 match fixture, the time duration is from 24 February to March 6, 2016. All together 5 teams will be participating in this tournament. These teams are Bangladesh, Sri Lanka, India, Pakistan and the winner of 2016 Asia Cup Qualifier. The best teams in Asia Cup T20 2016 will be headed in the next round. Asia Cup 2016 Live telecast will be available in different channels including Channel 9, Star Sports, Fox Sports, and Sky TV and so on. After the Asia Cup 2016 there will be ICC T20 World Cup in India.