It is really a wonderful news for Kolkata knight Riders that their best spinner Sunil Narine has got permission from ICC to play nationally and internationally after his successful test of bowling action. Here we are provide IPL 2016 points table and today match result.
Sunil Narine Can Played In Indian Premier League 2016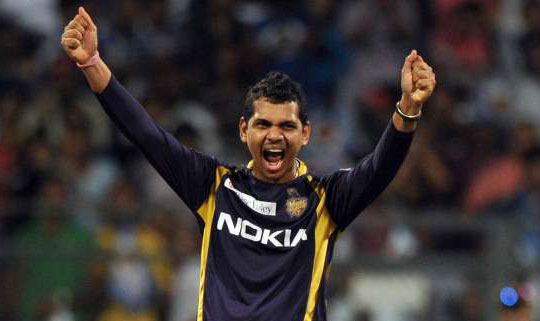 ICC declared on Thursday night in a press release  that Narain's bowling action is valid . In his bowling action test, it is found that during all his bowling deliveries, his elbow was within 15 degrees, the required measurement.
After rectifying  his bowling action,  it is again tested  in Sree Ramchandra University on last 28th March. But, if there is any doubt, the umpires can give objection if they feel so in future.
During paying in Srilanka , on last 7th November  in Pallekelle ,on 3rd one day match, Narain's bowling actions were objected. Later it was found that during all his deliveries of the ball, his elbow is beyond  the valid 15-degree measurement.
Even though he was banned, the West Indies cricket team included him in their T20 world cup team. But after declaring the team, Sunil Narine, the 26 years old off spinner withdrew himself  from the list.
Narain is one of the hero of 2012 and 2014 victory for Kolkata knight Riders (KKR). But, there is little possibility of playing in the first match of Kolkata knight Riders  even though, KKR has the every opportunity to get back Sunil Narine in their team.  This bowler joined  the team  in the tournament  of T20  but went back to the country when his father passed away. Still now, he is with  his family.
On the coming 10th April, two times champion of IPL, Kolkata knight Riders will play against Delhi  Daredevil. This will be the first match of KKR in IPL this year.