BPL 2017 Revised Schedule has announced by Bangladesh Premier League Governing Council. Now BPL 2017 to start from November 4. BPL match scheduled is something which will be a prior search terms for the cricket lovers especially from Bangladesh as the fifth edition of Bangladesh Premier League is knocking at the door. Earlier, there were lots of changes regarding BPL 2017 Revised due to several problems. Finally the authority concerned had given the date as November 3, 2017 but now this has also been changed by Bangladesh Cricket Board. According to newly announced schedule, BPL 2017 will be started from November 4 instead of November 3. By this, the BPL has returned to the date from which the tournament generally starts.
BPL 2017 Revised Schedule of Bangladesh Premier League Season 5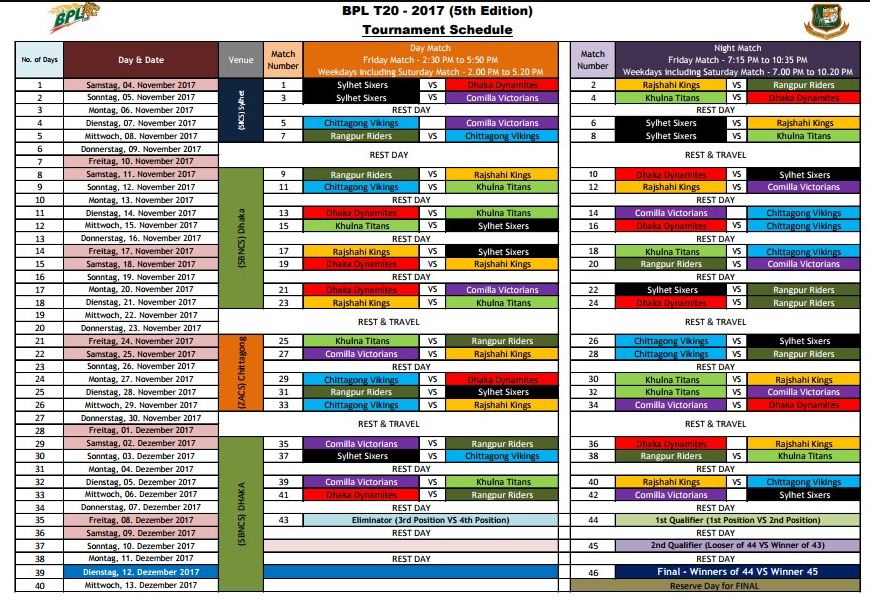 Previously it was said that the fifth edition of Bangladesh Premier League 2017 will be started from November 2 and the opening ceremony will be held on October 31. However, the opening ceremony was canceled considering the recent flood situation of the country. The BPL was supposed to be started from November 3 to avoid the clash with Global T20 League which was supposed to be started from the same date. But now, the BCB along with BPL governing committee has announced the date and it is actually November 4, 2017 from which the tournament will be started. Also Check BPL T20 Revised Schedule 2017.
Quick Look to BPL 5
BPL 5 will be started from November 4, 2017 and will be continued to December 12, 2017. The first match will be held between defending champion Dhaka Dynamites vs Sylhet Sixers, the new addition of BPL franchise list. The match will be hosted in Sylhet which is also the first time in BPL history. The final match of BPL 2017 will be held in home of cricket- Mirpur Shere Bangla stadium. There will be 7 teams participating in BPL 2017 and it will be a stunning tournament to watch.
Get all the updates of BPL 5 matches here in our site. To get the live score and ball by ball updates of BPL 2017 matches, please visit the following site developed by us for you. Now check BPL revised schedule 2017.