Argentina vs Brazil Match Live Streaming World Cup 2018 Qualifier. Argentina vs Brazil Today Match Result FIFA World Cup Qualifier 2018. Brazil and Argentina, two arch rivals of world football, have always produced some of greatest matches of all time. The two teams of Latin America will meet each other once again on November 11. The match will be qualifier stage match for World Cup 2018 which will be hosted by Russia.
Both team have declared their squad for the upcoming match and the stage is all set to arrange another thrilling display of football. Football fans of Bangladesh must be excited ahead of this match as Brazil vs Argentina match has always been a battle between the supports of both teams.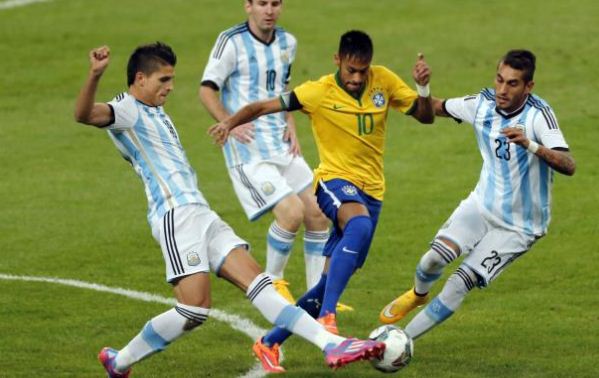 Argentina vs Brazil  Match Schedule In FIFA World Cup Qualifier 2018 
Brazil vs Argentina world cup qualifier match will be held on November 11 according to Bangladesh time. The match will be started on early morning in Bangladesh. Brazil will host the match and the match will take place at Estadio Mineiro of Belo Horizonte. According to local time, the match will take place on November 10 and will be started from 21:45.
Argentina Squad: Messi returns in the side
After a dreadful experience in last two matches of WC 2018 qualifiers, Argentina will feel more ease as Lionel Messi has made a comeback to the team after injury. Argentina was beaten by Paraguay and had 2-2 against Peru and Venezuela. The tam will in a must win situation this time. Sergio Ramero will be keeping the goal this time while Nicolas Otamendi, Facindo Rongcaglia, Pablo Zabaleta, Gabriel Mercado and Demichelis may feature as defenders. In midfield, the team has Javier Maschrano, Nicolas Gaitan, Perez, Banega, Di Maria and Lucas Biglia. In forward line,Lionel Messi will start the attack along with Sergio Auguero, Paulo Dybala and Ganzalo Higuain.
Brazil Team Squad: Brazil coach having sleepless night
Brazil coach Tite has said that he is too much worried about the big clash of Brazil vs Argentina. He however, declared the squad ahead of the match vs Argentina. Aliison, Alex have been included as the goal keeper. Real Madrid star Casemiro, Lucas Lima, Philippe Coutinho, Willian and Paulinho will play as the midfielder. In forward line up, there are Barca super star Neymar, Douglas Costa, Roberto Firmino and Gabriel. Team Brazil is currently on top of the points table and the men in yellow will be hoping to extend the lead in points table. All in all, it will be a match of great contest.
Argentina vs Brazil match live telecast
Argentina vs Brazil will be telecast in a number of TV channels across the world. Bangladesh fans may able to watch the match live in Sony Six or Star Sports. To know more about Brazil vs Argentina upcoming match, stay connected with us.